Saudia Cargo have signed a strategic agreement with Jan de Rijk Co., to enhance its services and expand its reach in Europe. The signing ceremony took place on the 19th of July, 2023, at Saudia Cargo's headquarters in Jeddah, solidifying the collaboration between the two industry leaders.
Under this agreement, Saudia Cargo will leverage Jan de Rijk's extensive trucking network, which comprises a fleet of specialist vehicles, to bolster its operations and strengthen its presence in Europe.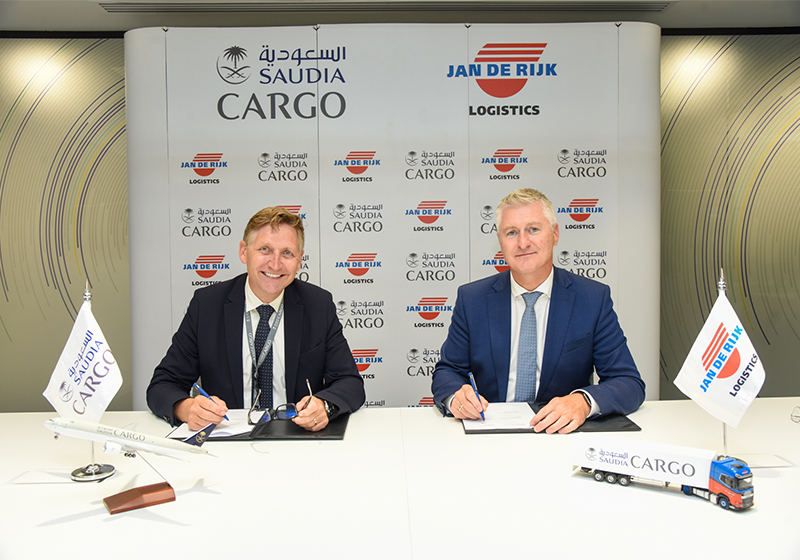 Saudia Cargo's collaboration with Jan de Rijk Co. marks a significant milestone in its growth strategy, enabling it to tap into new opportunities and further build up its European operations. Saudia Cargo aims to enhance its service offerings and deliver seamless end-to-end logistics solutions to its customers by utilizing Jan de Rijk's extensive network and specialist vehicles.
"We are delighted to partner with Jan de Rijk Co. to extend our footprint in Europe and provide enhanced logistics services to our valuable customers," said Teddy Zebitz, CEO of Saudia Cargo. "Jan de Rijk's extensive experience and proven track record in the European transportation industry align perfectly with our business growth objectives. Besides, we both share same mission towards sustainability, which is an important issue for the air cargo industry, and air cargo carriers that adopt sustainable practices can help to protect the environment, improve safety, and enhance their brand reputation. Together, we will enhance our offering for innovative and efficient solutions that cater to the evolving needs of the regional and global market."
Fred Westdijk, CEO of Jan de Rijk Co., expressed his enthusiasm for the collaboration, stating, "This agreement with Saudia Cargo presents a remarkable opportunity for both organizations. By combining our strengths, we will unlock new avenues for growth and better serve our customers. We look forward to a fruitful partnership and its mutual benefits."
The agreement between Saudia Cargo and Jan de Rijk Co. demonstrates both companies' commitment to providing exceptional logistics services and advancing the logistics industry. By merging their collective expertise, resources, and networks, Saudia Cargo and Jan de Rijk Co. are poised to achieve several vital milestones due to the collaboration.